20' General purpose container with ventilation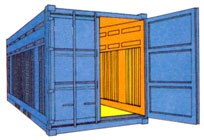 Ventilated containers are also known as passive (naturally) ventilated or coffee containers. Ventilation is provided by ventilation openings in the top and bottom side rails. The openings do not let in spray, to prevent depreciation of the cargo by rain or spray, for example.

If actively ventilated containers are required, i.e. containers with adjustable ventilation, "porthole" containers may be used, which simultaneously act as insulated or refrigerated containers. For more detailed information, see under Insulated and refrigerated containers.

Lashing rings, to which the cargo may be secured, are installed in the upper and lower side rails and the corner posts. The lashing rings may take loads of up to 1,000 kg. The common size for ventilated containers is 20'.